Product successfully added to your shopping cart
There are

0

items in your cart.
There is 1 item in your cart.
View larger
Bipolar air ionizer Yantar 7A
The modern model of bipolar ionizer Yantar-7A is mean to create and maintain of established concentration of light air ions of both positive and negative polarities.
Warning: Last items in stock!
Availability date:
Specifications
| | |
| --- | --- |
| Type of ionizer | needle-shaped (corona discharge) |
| Applicable room size | 1–4 persons, up to 60 cubic meters |
| Unipolarity factor | 1,0+/-0,3 |
| Range of ions concentration (N+, N-) within 1 m | from 500 to 100.000 air ions/cm3 |
| Flow rate of air within of 1m | up to 0,3 m / s |
| Fan performance | up to 80 cubic meters / hr |
| Fan size | 92 x 92 mm |
| Type of premise | Office, living quarters |
| Ozone concentration generated by unit | No more than 0.03 mg/m 3 (average daily MAC* for atm. air) |
| Noise level of cooler | up to 40 dB |
| Time of continuous running | Without restrictions |
| Power consumption | Less than 5 watt |
| Weight, not more than | 920 grams |
| Overall dimensions, no more than | 112 x 160 x 105 mm |
| Power requirements | 120/220 V, 50-60 Hz |
More info
Bipolar air ionizer Yantar-7A is made entirely of solid wood (body and frame). Removable front cell with neodymium magnets for easy cleaning electrodes. The new design of the discharge electrodes made of stainless steel.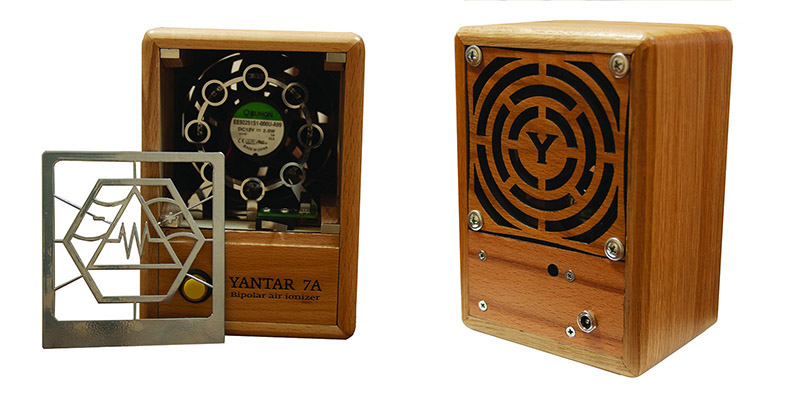 Noiseless mode of operation
Long-lasting needles, staying clean for a long period of time;
Firm rings, contributing to stabilized concentration and unipolarity factor of ionization.
Modern design
Environmental-friendly materials
Suitable both for office and home use;
Wide range of furniture materials: pine, beech, oak, custom (e.g., mahogany)
Cases are not electrified
Ultra-low chemical substances emission, far exceeding strict environmental requirements for home and office use
Uniform ions distribution within the whole room – thanks to the high quality fan.
Ionization does not have impairment on electronic devices, ionizer can be used in continuous mode of operation.
Each unit is adjusted individually (concentration, unipolarity).
The unit produces no electrostatic field, thus no dust is depositing on the walls or ceiling with time.
Ionizer helps to neutralize the static charge of objects in the room.
Veneered units have handy multi-functional remote control.
Advantages of bipolar ionization method:
improvement of psychological and physical health state;
suppression of fungi and bacteria activity;
air purification – eliminate suspended particles of very fine dust;
electrostatic charge neutralization.
Ionizer Yantar-7A
Case made of beech (on the left) and oak (on the right)
Bipolar ionizer Yantar-7A should be installed within 2-4 meters from the person. It produces air ions of both polarities, which help to compensate for their deficiency in the breathing area.
The air ion content is consistent with the sanitary code of Russian Federation. The code says that the air must contain ions of both polarities, like in nature.
To place an order for the bipolar ionizer Yantar'-7A, please fill in the on-line form.
For measuring of ion concentration air ion counter is recommended – it gauges ions of both polarities.