Product successfully added to your shopping cart
There are

0

items in your cart.
There is 1 item in your cart.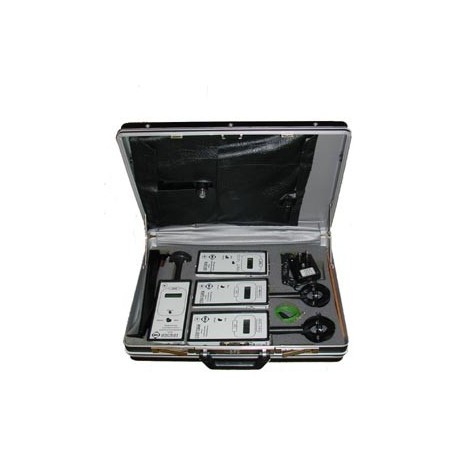 View larger
Cyclone-05M Toolkit
CYCLONE-05M toolkit is a complete solution intended for magnetic induction, intensity of low-frequency electro-magnetic (EM) fields. It is suitable for measuring the above parameters near to various devices, including PCs. It can be used to control compliance of a device to the norms in conservation of nature and safety of work, according to the State Standard of Russian Federation (GOST Р 50948-96) and Sanitary Rules (SanPin 2.2. 2.542-96).
This product is no longer in stock
Warning: Last items in stock!
Availability date:
More info
The toolkit is comprised of: variable electric fields meter IEP-05, and variable magnetic fields meter IMP-05, electrostatic field meter IESP-01. Devices are packed in a suitcase of the following dimesions: 175*81*45 mm, and placed in auxiliary plastic case, for most convenient use. There are two types of power supply that can be used: battery "Corund" with output voltage 9V, and AC ~220 /50 Hz. In the latter case, use of external power supply BPI-02 is required. If required, the meter can be supplied with the custom-built power supply for AC ~110/60Hz.
The Variable Electric Field Meter - IEP-05
(State Register No. 17288-98)
Frequency range:

Band I: 5 Hz - 2 kHz
Band II: 2 kHz - 400 kHz

Intensity levels of a variable electric field:

Band I 10-200 V/m
Band II 1-20 V/m

General measurement error <= 20 %.
Weight with disk antenna ~0,9 kg.
The Variable Magnetic Fields Meter IMP-05
(State Register No. 17289-98)
Consists of two blocks - IMP-05/1 and IMP-05/2.
Frequency range:

IMP-05/1 5 Hz - 2 kHz
IMP-05/2 2 kHz - 400 kHz

Measurement Range

IMP-05/1 100-2000 nTl
IMP-05/2 10-200 nTl; General measurement error <= 20%.

Weight of each block ~0,75 kg.
Highlight: Real-time measurement of magnetic induction using isotropic antenna, essentially simplifying the measurement process.
The Electrostatic Field Meter IESP-01
(№ in State Register 17663-98)
Device IESP-01 is intended for measurement of equivalent electrostatic potential on a surface of the screen of the monitor. Can find industrial application in testing for electromagnetic safety compliance.
Measurement Range 180 kV/m
General measurement error <=10 %
Delivery system: electrostatic field intensity meter IESP-01; a holder with disk D=200mm for electrostatic potential measurement of the display screen (test for SanPiN 2.2. 2.542-96 compliance);
The measuring plate 500*500 mm * (for measurements according to GOST 50949-96).
* -Optional